Concert Review: Kishi Bashi
I kicked off my first day of senior year right with Kishi Bashi's stellar performance at Mr. Smalls Theatre in Millvale, PA this past August. I've seen Mr. Ishibashi twice before: the first time as a touring violinist for of Montreal at Terminal 5 in NY and at Carnegie Mellon, during the spring semester of my sophomore year in February 2013. Kishi Bashi was supported by HEIDEMANN, an independent act led by namesake Monika Heidemann, and Bombadil, a charming four-man band from North Carolina. I had been eagerly awaiting this concert after the release of Kishi Bashi's second full-length album Lighght, pronounced "light," earlier this year in May.

HEIDEMANN opened the night with her eccentric tunes that sounded like they were imported from outer space. I'll admit she wasn't the kind of artist I was expecting to open for Kishi Bashi and the only parallel I could draw between the two was their shared use of musical looping. Although she is currently based out of Brooklyn, NY she definitely had more of a Seattle or Portland hipster vibe. Her slow tempo, live-recorded music was reminiscent of when I saw Dadelus open for Yeasayer at the same venue in August 2012. HEIDMANN's lack of experience showed during her performance, "[she was] a bit awkward," as one concertgoer put it. Although HEIDEMANN's musical tastes don't line up with mine, she clearly has a distinct style that will enable her to stand out from other artists.
The end of HEIDMANN's set marked the beginning of another, as three dapper men took the stage. Something was amiss though, for the fourth member of Bombadil was nowhere to be found. In my eyes, it didn't make a difference since the remaining three gentlemen did not fail to impress me. Bombadil's stage presence was largely reminiscent of the time I saw Punch Brothers at the Rex Theater where all five of the band's members were clad in elegant menswear and had no trouble interacting with the audience. The band's folk-pop sound was similar to the likes of Fleet Foxes or the Decemberists with the peppiness of Good Old War sprinkled in. I adored Bombadil's soothing harmonies and calming tunes, both of which were refreshing to my ears, a pure delight.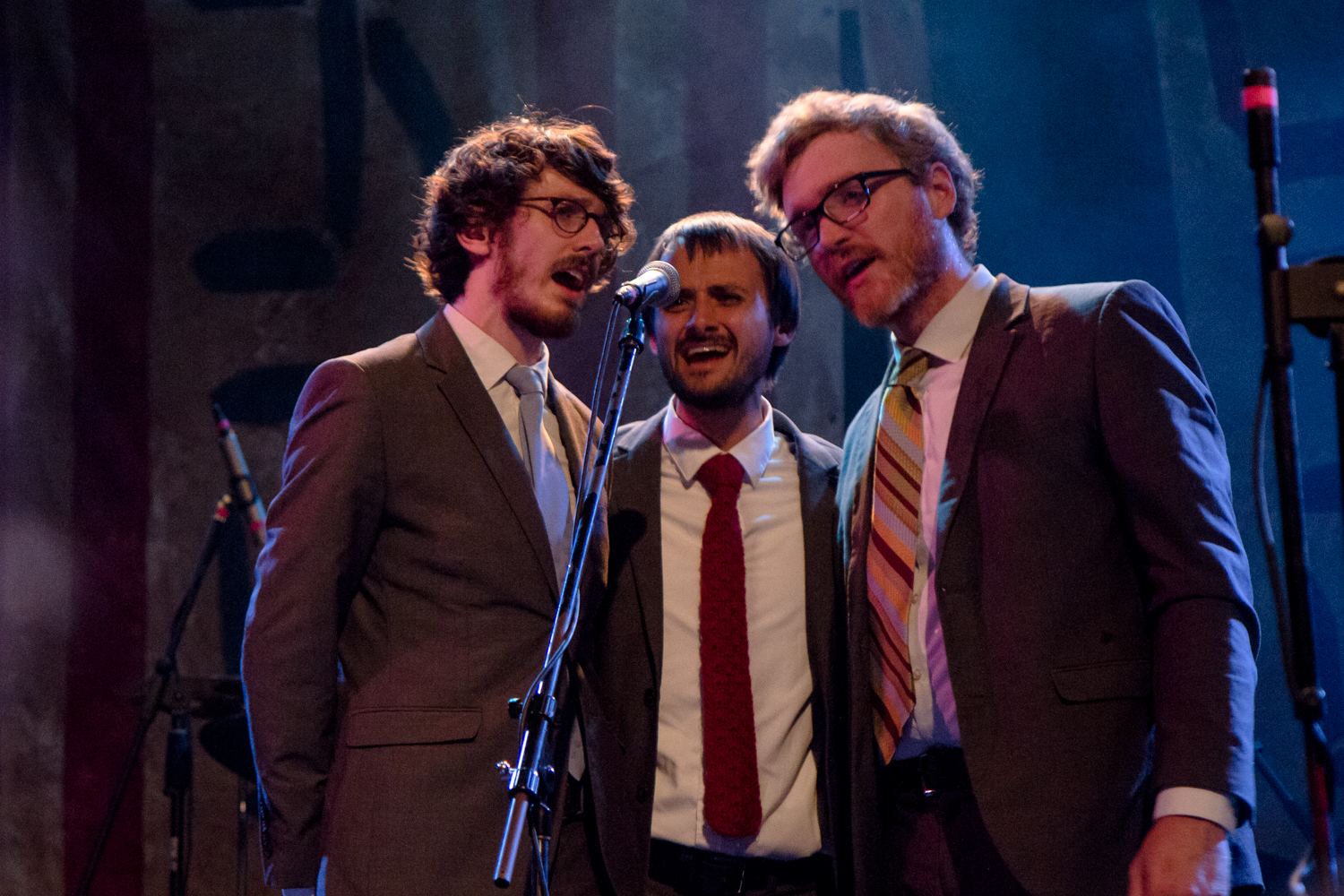 The drastic juxtaposition between HEIDMANN and Bombadil's musical styles kind of took me by surprise, however I thought they were suitable openers for Kishi Bashi. Ishibashi was classically trained in violin while growing up and when he stopped by CMU in winter 2013, I had the chance to speak with him for a brief moment. Kishi Bashi mentioned that he drew his influences from chamber music, jazz improvisation, and what he referred to as "adolescent music," produced by artists such as Nirvana. Today, he seamlessly blends traditional and electronic elements together to form his own genre of music.
Kishi Bashi's mastery of the violin was made apparent right from the start, as the audience was welcomed with one of his signature string introductions, which segued into "Philosophize In It Chemicalize With It!" from Lighght. Despite the release of Lighght a few months earlier, I found that the show's repertoire was well-balanced. It featured songs from Lighght, his debut album 151a from 2012, and his EP Room for Dream. Going in to the concert, I was mostly interested to see him perform new material, the bonus track "Brandenberg Stomp" in particular, however, in retrospect, I was not disappointed with the selection.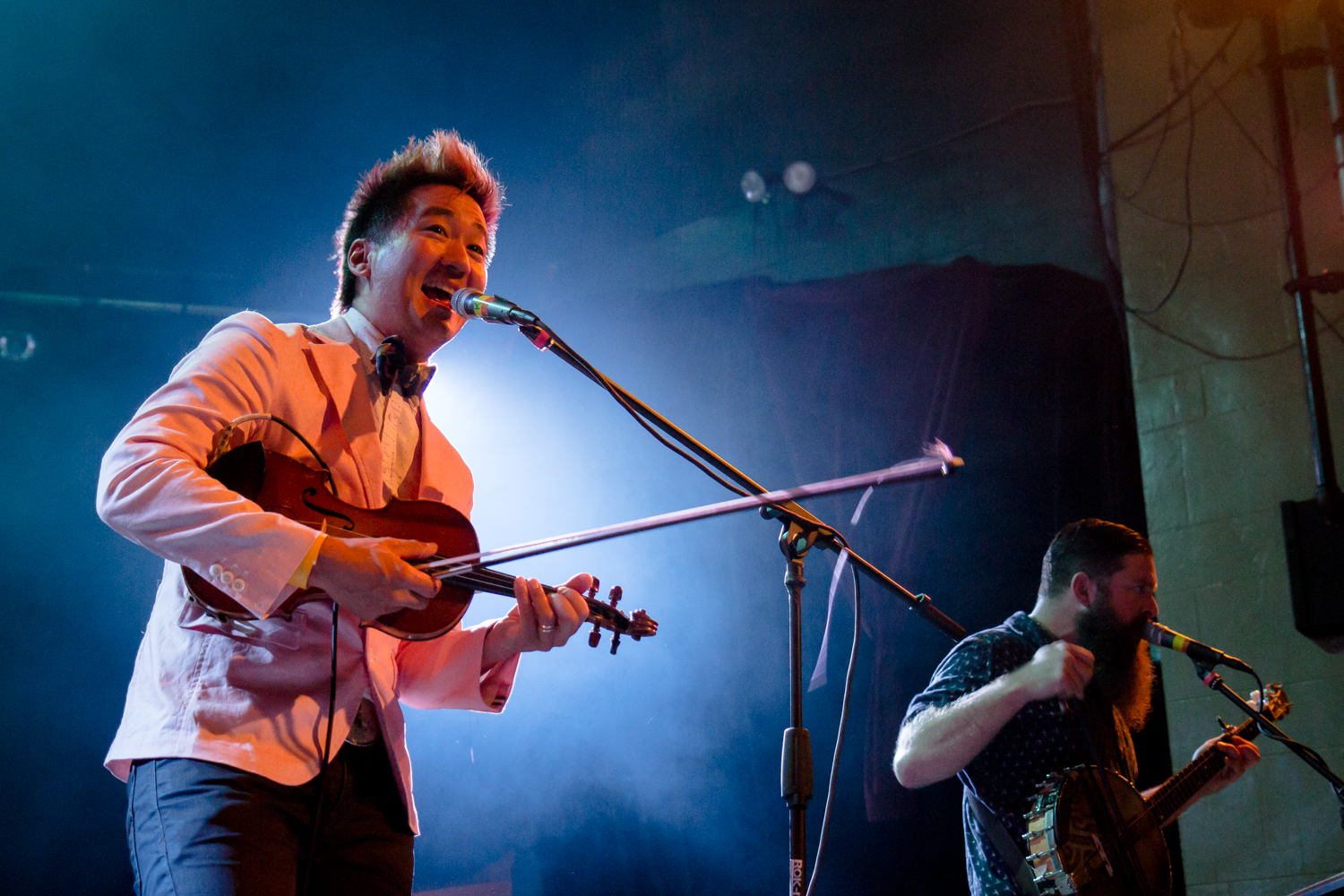 The best thing about seeing Kishi Bashi in person is seeing him construct songs from the ground up. Watching him record and mix the simple phrase, "Ha ha ha" for "Hahaha Pt.1" was extremely satisfying and mesmerizing. He also caught the audience off guard with a seemingly impromptu cover of "Live and Let Die," originally performed by Paul McCartney and Wings. What I love about Mr. Ishibashi is his ability to turn plain, ordinary speech into not just music, but an experience. Kishi Bashi's concerts are not just about listening and watching him on stage, it's about experiencing how his music is made. Till then, I'll be waiting for his return to the Steel City.
Kishi Bashi will be on tour through November 1, 2014, for more information visit Kishi Bashi's Facebook page!
I'd like to thank Tito Belis for all of his help!